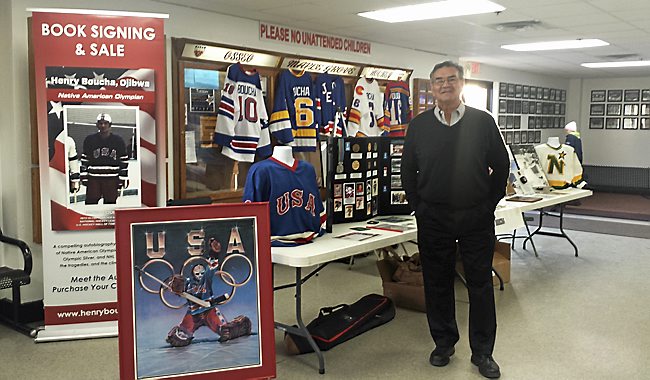 Whenever there is a conversation about the rich hockey history of Warroad, Minn., one of the rst names to come up is Henry Boucha.
As his biography on the U.S. Hockey Hall of Fame website says, "Henry Boucha has been labeled as the most electrifying player in Minnesota hockey history." That biography also highlights his Ojibwa heritage.
Boucha's high school career is legendary. In 1969, he led Warroad to the state tournament and one of the classic games in Minnesota high school history — a 5-4 overtime loss in the nals against Edina, a game during which he was injured.
Boucha played on the U.S. Olympic team that won a silver medal in 1972 and, at the age of 19, signed with the Detroit Red Wings after being the 16th overall pick in the 1971 draft. He scored a goal in his rst game with the Red Wings and was the team's rookie of the year. He spent two years with Detroit before being acquired by the Minnesota North Stars. A serious eye injury interrupted his NHL career in 1975. He played for the WHA's Minnesota Fighting Saints in 1976 and spent part of the 1977 season back in the NHL before retiring at 24 because of his eye.
Boucha is among the people featured in an NBC Sports documentary just released about his hometown called "The Road Through Warroad: Hockeytown USA." It includes other local hockey standouts T.J. Oshie and Gigi Marvin.
Boucha talked to the Pioneer Press about Warroad and the documentary. Check it out on the Twin Cities Pioneer Press website.